December 2, 2017​
​The 2017 Quebec City Mayor's Ball: A charity event that brings hope to troubled youth
The philanthropic event was a resounding success and helped raise a total of $405,000. The funds will enable Fondation Jeunes en Tête to give more support to organizations that help troubled youth in the Quebec City and Eastern Quebec areas.
"On the occasion of the 7th edition of the Mayor's Ball, I'd like to thank Quebec City's business community once again for their generosity and commitment to the troubled youth of our society," said mayor Labeaume. "By continuing this tradition of hope, we are investing in future generations by offering them the gift of perseverance, possibility and success."
As the Quebec City business community's signature event, the Mayor's Ball for the Fondation Jeunes en Têtemakes an exceptional statement about the support and commitment to youth in Quebec.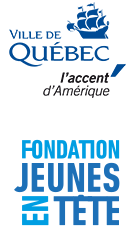 "Yesterday's event is a concrete example of the role the business community must play to make a difference in society. I am grateful to have been the Honorary President of the 7th Mayor's Ball and I warmly thank all the people and companies involved in this memorable evening," said Jean-François Chalifoux, CEO of SSQ Financial Group.
Every year, thousands of young people between the ages of 11 and 17 rely on youth assistance organizations in Quebec City and Eastern Quebec for help. To date, thanks to the Quebec City Mayor's Ball, the Fondation Jeunes en Tête has helped more than 12,000 teens and invested more than $1.7 million in programs to support these young people.
Guests attending the Ball marvelled at the astonishing "Japanese Spring" décor, worthy of the most sumptuous displays the country of the rising sun has to offer.
The philanthropic event, produced by Go Productions, was a resounding success with the 520 guests from Quebec City's business community. Several highlights of the evening included an exquisite Japanese menu developed by chef Frédéric Cyr and his team, as well as the brilliant work of the evening's master of ceremonies Stéphane Bellavance and a young member of Intégr'action Jeunesse. Guests were entertained by a number of musical acts that included artists from Option-Travail and Jeunes musiciens du monde, a Japanese drumming performance by Arashi Daiko and the rhythmic sounds of Le Comité band.
About the Fondation Jeunes en Tête
The mission of Fondation Jeunes en Tête is to help teens in trouble or susceptible to being in trouble, all across Quebec. To accomplish its mission, the foundation lends support to community organizations effective at developing and implementing preventative and restorative programs for the well-being of young people. Also offered is the "Partners for Life" prevention program in Quebec's high schools. For more information, go to fondationjeunesentete.org/en.
About SSQ Financial Group
With $11 billion in assets under management, SSQ Financial Group is a prominent mutualist diversified financial institution in Canada. It serves over 3 million customers and employs 2,000 individuals. The company is recognized for its leadership in the group insurance industry, and excellence and expertise in the general insurance, individual insurance and investment markets.